Simmons® Natural Care®
Sleep closer to nature.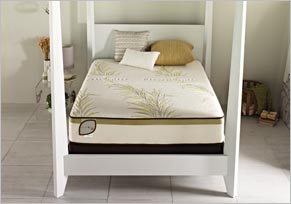 Night is a time when your body and mind can heal and recover. When the stresses of the day give way to healthy, rejuvenating slumber. That's why we combined the best of science and nature to create the Simmons Natural Care mattress—the perfect sleep surface. Some of our most technologically advanced foam formulations and proprietary designs are applied to naturally derived substances. The result is a soothing, responsive mattress made for your unique shape.

Download printable information for Natural Care
The Green Guide
Here you'll find sage advice for making your bedroom a more eco-friendly, more natural place.

Download as PDF